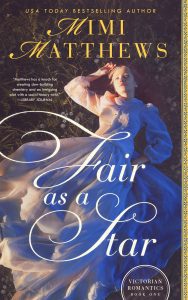 I'm overjoyed to be interviewing fellow author Mimi Matthews this week, whose Victorian-set romance Fair as a Star was released July 14 (the same day as the paperback of my own Bear No Malice). Mimi and I have a lot in common, so I love that we we're collaborating and celebrating our release week together!
Mimi's novel A Modest Independence was one of the top five books I read in 2019, and you can bet that Fair as a Star is going to be on my favourites list for 2020 (you can see my Goodreads review of Fair as a Star here). Mimi's books are impeccably researched and show a deep understanding not only of concrete period details but also of attitudes and mores of the Victorian period. Mimi's award-winning blog is a treasure-trove of information about Victorian society, too. Best of all, her deeply-layered, three-dimensional characters are a pleasure to get to know. They are never stereotypes, and I always close her books with that bittersweet feeling of having made wonderful new friends that I'm sorry to leave behind.
Mimi and I came up with a list of questions for each other that relate to commonalities between our writing. Here are her answers. Read to the end to find out how to win a free copy of Fair as a Star. (You can see my answers to the same questions and a chance to win a free copy of Bear No Malice on Mimi's blog.)
Clarissa: We both write about the Victorian era. What intrigues you about that era? Could you see yourself writing about different historical periods?
Mimi: I love writing within the particular boundaries imposed by the Victorian era. There were so many constraints on behavior, everything from narrow societal views on science and social issues to the restrictions imposed by etiquette, and even by the oppressive layers of clothing worn by middle- and upper-class ladies and gentlemen. These societally-imposed limitations are a lot of fun for characters to push up against as they discover who they are and what they want from life—and from their potential partners. The restrained atmosphere of the era also helps to lend meaning to small gestures, which is something I particularly like as a romance author.
I've written two Regency romances so far, and while I enjoy the period, I always find myself longing to return to the Victorian era. It's the era I prefer, and feel most comfortable in. And it's such a long span of years, which gives plenty of room to tell the stories I want to tell. I can definitely see myself switching from mid-Victorian to late-Victorian at some point. But I shy away from other centuries.
Clarissa: We've both written novels in which Anglican priests figure prominently. Why are you drawn to English vicar heroes?
Mimi: For me, I suspect it's that same attraction I have to Victorian era self-restraint. I love the idea of a hero who is outwardly quiet and controlled, but who is churning with passionate emotion underneath—an emotion, as yet, undiscovered by the heroine. There's also something noble about a vicar hero. He believes in something, and has a certain moral code he tries to adhere to. Sometimes that can make his feelings toward the heroine even more of an internal struggle, which always results in some wonderful tension!
Clarissa: We are both very character-driven authors: how do you make your protagonists so deeply layered and psychologically realistic?
Mimi: I feel like both of us really emphasize those parts of our characters that are universal. They may be wearing historical clothes, and limited by historical mores, but most of their problems aren't unique to a particular time period. They struggle with things like faith, forgiveness, and desire. Seeing them process and work through their feelings is so very relatable.
Fair as a Star (Victorian Romantics, Book One) by Mimi Matthews
Release Date: July 14, 2020
Formats: ebook; paperback; and audiobook
Blurb:
From USA Today bestselling author Mimi Matthews comes a Victorian tale of love and longing in a quaint English village.
A Secret Burden…
After a mysterious sojourn in Paris, Beryl Burnham has returned home to the village of Shepton Worthy ready to resume the life she left behind. Betrothed to the wealthy Sir Henry Rivenhall, she has no reason to be unhappy–or so people keep reminding her. But Beryl's life isn't as perfect as everyone believes.
A Longstanding Love…
As village curate, Mark Rivenhall is known for his compassionate understanding. When his older brother's intended needs a shoulder to lean on, Mark's more than willing to provide one. There's no danger of losing his heart. He already lost that to Beryl a long time ago.
During an idyllic Victorian summer, friends and family gather in anticipation of Beryl and Sir Henry's wedding. But in her darkest moment, it's Mark who comes to Beryl's aid. Can he help her without revealing his feelings—or betraying his brother?
Buy Links:
Amazon: https://www.amazon.com/dp/B0887NJD8G
Barnes & Noble: https://www.barnesandnoble.com/w/fair-as-a-star-mimi-matthews/1136979649?ean=2940162690900
Apple: https://books.apple.com/us/book/fair-as-a-star/id1512060148
Kobo: https://www.kobo.com/us/en/ebook/fair-as-a-star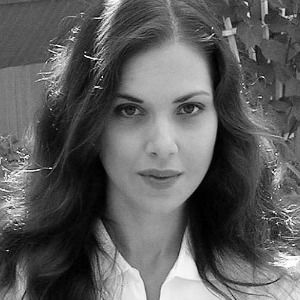 About the Author:
USA Today bestselling author Mimi Matthews writes both historical nonfiction and award-winning proper Victorian romances. Her novels have received starred reviews in Library Journal and Publishers Weekly, and her articles have been featured on the Victorian Web, the Journal of Victorian Culture, and in syndication at BUST Magazine. In her other life, Mimi is an attorney. She resides in California with her family, which includes a retired Andalusian dressage horse, a Sheltie, and two Siamese cats.
Where to Find the Author (website, social media, etc.)
Website: https://www.mimimatthews.com/
Facebook: https://www.facebook.com/MimiMatthewsAuthor
Twitter: https://twitter.com/MimiMatthewsEsq
Pinterest: https://www.pinterest.com/MimiMatthewsEsq/
BookBub: https://www.bookbub.com/profile/mimi-matthews
Giveaway Rules:
For a chance to win a free paperback copy of Fair as a Star, follow Mimi's Facebook or Twitter page (links above). On Facebook, please leave a comment on Mimi's pinned post. On Twitter, please RT Mimi's pinned post announcing the release of Fair as a Star. If you do both (FB and Twitter), you'll earn two entries for the giveaway. The winner will be chosen randomly and announced at noon EDT on Monday, July 20. Open to residents of US and Canada (due to postal restrictions, Canadian winners will receive an e-book instead of a paperback).
*To read my answers to the interview questions and see the giveaway rules to win a copy of Bear No Malice, go to Mimi's blog!