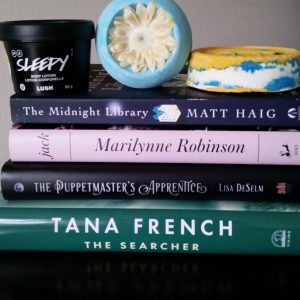 October has been a good month. I had a birthday, which means my wonderful husband gave me lots of books that were on my wish list. In my own book news, I'm also celebrating the fact that Bear No Malice is now available in a large print edition. I also had a fun chat with Deborah Kalb, who interviewed me on her blog.
I've been thinking a lot about the many people and businesses who have suffered because of the pandemic, and because my world is all about books, I'd like to highlight some newly-published novels. Being a debut author is difficult at the best of times. Nobody has ever heard of you or your book. Your agent, publisher, and friends will do their best to get the word out, but the fact remains that there are millions of books in the world and it's hard to get your book noticed, much less in the hands of readers. With the pandemic on top of this, book launches have been cancelled or moved online, which just isn't the same.
To help get the word out about some 2020 debut novelists, I've compiled a far-from-exhaustive list below. Take a chance on one or two: they may be your new favourite authors!
Historical Fiction
Finola Austin, Brontë's Mistress
Tonya Mitchell, A Feigned Madness
Rita Woods, Remembrance
Anika Scott, The German Heiress
Samantha Rajaram, The Company Daughters
Women's Fiction
Barbara Conrey, Nowhere Near Goodbye
Lainey Cameron, The Exit Strategy
A.H. Kim, A Good Family
Sherri Gladwell Leimkuhler, What's Left Untold
Young Adult
Lisa DeSelm, The Puppetmaster's Apprentice
Olivia Smit, Seeing Voices
Chloe Gong, These Violent Delights
KayLynn Flanders, Shielded
Kristin Lambert, The Boy in the Red Dress
The novels below are in different genres, a refreshing change of pace from what I usually read:
Drew Murray, Broken Genius (tech thriller)
Mary Keliikoa, Derailed (detective fiction)
Pamela Skjolsvik, Forever 51 (a darkly comic novel about a menopausal vampire!)
If none of these strike your fancy, take a look at the 2020 debut authors' website, which you can search by genre.
Finally, please consider buying your books from an independent bookstore near you rather than from the usual suspects (I'm looking at you, Amazon). Like other small businesses, many independent bookstores are struggling or have already closed down. They desperately need your support.
I hope November finds you warm, safe, and happily reading!