Readers of my blog already know I'm a huge fan of Mimi Matthews, and I was thrilled when she sent me an early review copy of her new historical romance, The Siren of Sussex, which was published earlier this month.
About the book:
Evelyn Maltravers understands exactly how little she's worth on the marriage mart. As an incurable bluestocking from a family tumbling swiftly toward ruin, she knows she'll never make a match in a ballroom. Her only hope is to distinguish herself by making the biggest splash in the one sphere she excels: on horseback. In haute couture. But to truly capture London's attention she'll need a habit-maker who's not afraid to take risks with his designs—and with his heart.
Half-Indian tailor Ahmad Malik has always had a talent for making women beautiful, inching his way toward recognition by designing riding habits for Rotten Row's infamous Pretty Horsebreakers—but no one compares to Evelyn. Her unbridled spirit enchants him, awakening a depth of feeling he never thought possible.
But pushing boundaries comes at a cost and not everyone is pleased to welcome Evelyn and Ahmad into fashionable society. With obstacles spanning between them, the indomitable pair must decide which hurdles they can jump and what matters most: making their mark or following their hearts?
My review:
I loved both Evelyn and Ahmad. Their interracial romance intrigued me, and I appreciated the way Matthews delved deeply into questions of class, race, and gender that are pertinent both to the book's Victorian setting and to modern society. Matthews is too much the consummate professional to be heavy-handed about her message or to slip into overly-modern attitudes. Instead, these important issues are deeply embedded in the identity of these characters, and they drive the plot in believable and thought-provoking ways.
The way Ahmad and Evelyn misunderstand each other is utterly believable as well. Ahmad is disappointed by the "mundanity" of Evelyn's goal to wear his stunning riding habits to catch the attention of a potential husband, but her goal has a deeper motive behind it that shows the depth of her love for her family. And Evelyn is both pleased and disappointed by Ahmad's considering her his muse. Is she only a vague inspiration to be kept at a distance, or does he want a real relationship with her?
The secondary characters are vivid and compelling too, from Ahmad's cousin Mira, who has been keeping a surprising secret from him, to Evelyn's sister Fenny, whose scandalous behavior has put the family's reputation in jeopardy in a satisfying Austenesque subplot. Fans of Matthews may remember Ahmad and Mira from her earlier novel A Modest Independence, which was one of the five best books I read in 2019. I was happy to see that Tom and Jenny from that book show up in Siren too!
I know I can count on Matthews for the two things I value most in historical novels: an impeccable attention to period-specific detail, and multi-layered, three-dimensional characters. When I finish a Mimi Matthews book, I feel as though her protagonists are my friends. The sadness of parting with those friends when I close the book is mitigated by the likelihood that they'll make an appearance in her future books. The Siren of Sussex exceeded my expectations in every respect, and I highly recommend it!
You can buy The Siren of Sussex from any of the retailers below
AMAZON | BARNES & NOBLE | BOOK DEPOSITORY | BOOKSHOP | BOOKBUB | GOODREADS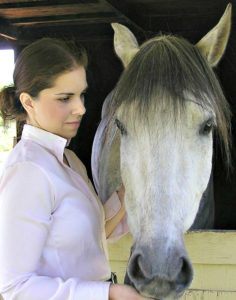 About the Author:
USA Today bestselling author Mimi Matthews writes both historical nonfiction and award-winning proper Victorian romances. Her novels have received starred reviews in Publishers Weekly, Library Journal, Booklist, and Kirkus, and her articles have been featured on the Victorian Web, the Journal of Victorian Culture, and in syndication at BUST Magazine. In her other life, Mimi is an attorney. She resides in California with her family, which includes a retired Andalusian dressage horse, a Sheltie, and two Siamese cats.
Clarissa's comment: I love this photo of Mimi and her horse Centelleo. Like Evelyn, the heroine of The Siren of Sussex, Mimi knows and loves horses!
WEBSITE | TWITTER | FACEBOOK | PINTEREST | BOOKBUB | GOODREADS