I meant to write this post in February, and here we are in April, but it's been a crazy few months, and better late than never. In January and February I traveled to Virginia and British Columbia to visit friends and speak at book events for Bear No Malice. Both trips went very well, and the book events were my favourite kind: joint author events with friends!
My trip to Virginia took place during a very snowy weekend in late January with fellow historical novelist Carrie Callaghan, author of A Light of Her Own. I posted an interview with Carrie back in December: you can read it here. Carrie kindly did all the driving, and our first stop was the charming city of Winchester.
Here we are when we first arrived, ready for a quiet dinner after the adventures in driving on slushy Virginia highways.


We had some windshield wiper fluid problems the first day that caused some delays, but Carrie's quick thinking kept us safe and laughing through it all. I'll never forget my first sight of the Virginia landscape through a smeary windshield. 🙂
That evening we were at the Winchester Book Gallery, a lovely independent bookstore, where we received a warm welcome from Christine, the owner.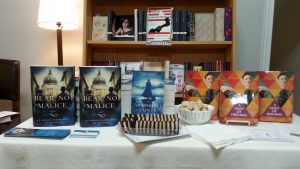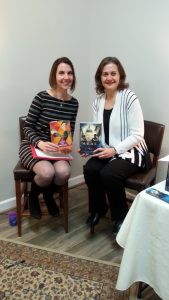 The next day we headed to Richmond. It was a sunny day and we didn't have to worry about windshield wiper fluid!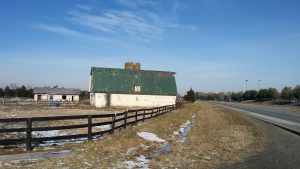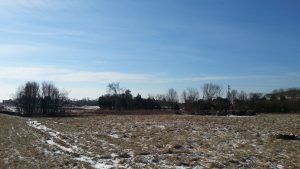 We arrived early enough in Richmond to take in some of the sights and eat lunch at the amazing Urban Farmhouse Cafe (if we had one of these in my city, I'd eat there every week). We then went to the quirky and adorable Fountain Bookstore for our event, where a creative window display of our books awaited us!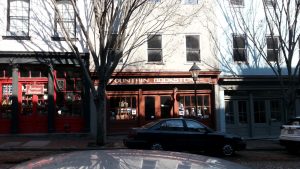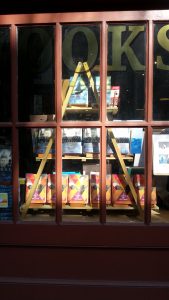 Carrie and I had a great time talking with Kelly, the owner of Fountain Bookstore, as well as the staff and audience, who were all wonderful. I also quite enjoyed the poster on the store's bathroom wall. 😉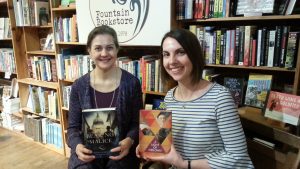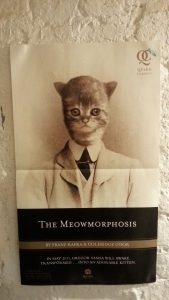 I parted sadly from Carrie the next day when she dropped me off at the airport. She's great company, and I wish we didn't live so far apart!
In February I was in British Columbia for a week during midterm break. I have several good friends and some family members in BC, so it was great to reconnect with them. One great memory is seeing the sunset, ocean, and mountains from the window of a beachfront restaurant in Vancouver with my good friend and former roommate Lorienne: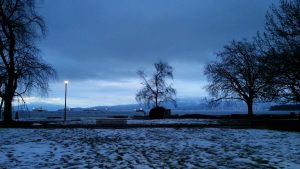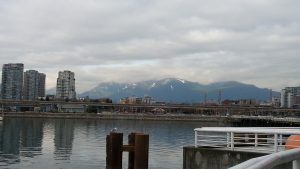 Another good friend, Okanagan poet Christine Thorpe, arrived in Vancouver later in the week, and we kicked off our book events at Book Warehouse. The audience asked great questions and we very much enjoyed our readings and conversation. It was also a pleasure to spend time with Christine, who used to be my neighbour in Ontario. We've talked books and writing for many years now, and she's given me lots of great writing advice.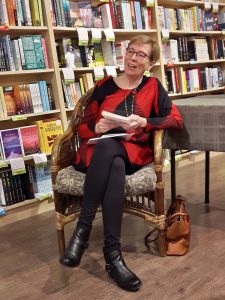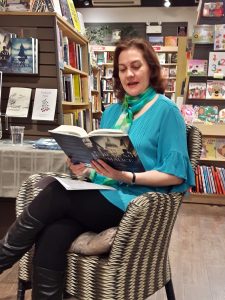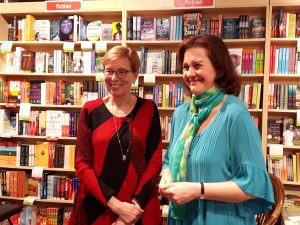 The next day, Christine, her partner James and I were off to Kelowna for a beautiful drive and another book event. I don't think I've ever been on the Coquihalla highway before, and it was spectacular. The trees were so laden with snow that they looked otherworldly.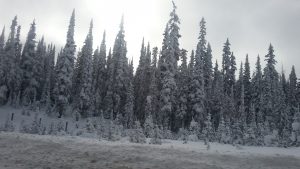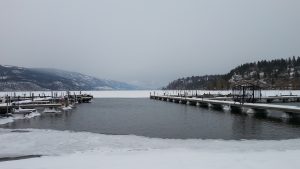 In Kelowna, Christine and I spoke and signed books at Mosaic Books, another lovely indie bookstore with another appreciative and attentive audience.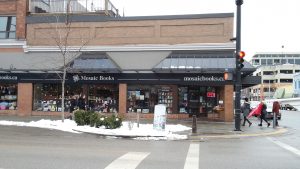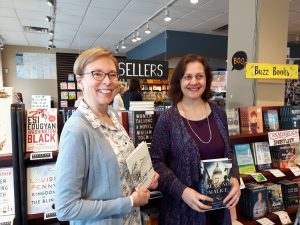 All in all, I met some great book-loving people, spent time with dear friends, and got to see some beautiful landscapes in the course of my winter travels. Thanks to everyone who has supported me and Bear No Malice during this time!