Happy New Year! This month has been a whirlwind for me because of the launch of Bear No Malice, but I wanted to post some photos of the book events I've done so far, just for fun.
The Saskatchewan launch of Bear No Malice was very special to me because it was my first-ever book event in Saskatoon, the city where I was born and lived for many years. McNally Robinson is an amazing bookstore and their promotion and marketing efforts are second to none! Witness the advertising: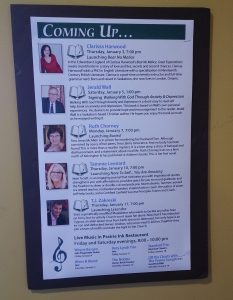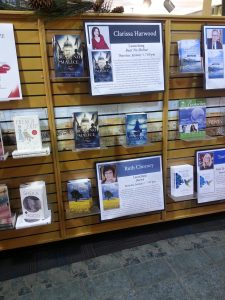 Out in front of the store on the busy street, there was a huge digital display with my face on it! It was quite startling to see at first.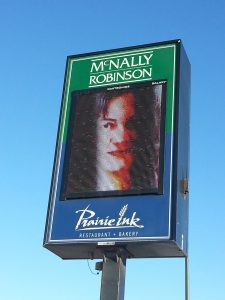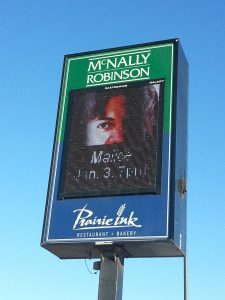 I like the way the photo on the right shows the digital display slowly changing so that I appear to be an advertisement for "Malice"!
The event itself was organized beautifully by the bookstore staff, and it was great to see my family and old friends there. I saw a good friend from high school I'd lost touch with as well as my Grade 10 Accounting teacher! (Grade 10 was a LONG time ago.)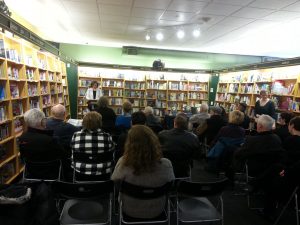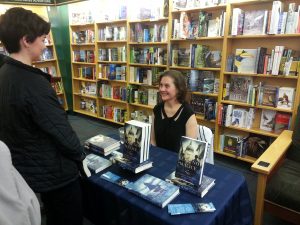 Later in the month, I did a joint author event in London, Ontario, with the always fabulous Rachel McMillan. We talked about the joys and challenges of writing historical fiction and creating authentic characters. The audience asked excellent questions, too!
The last photo above captured me with a very strange look on my face. I always wonder what I'm saying at such moments. At least Rachel seemed interested (or at least amused).
I hope you enjoyed the photos! Next weekend I'll be in Virginia for events in Winchester and Richmond with Carrie Callaghan. Then in mid-February I'll be in Vancouver and Kelowna for events with Christine Thorpe. (See the Author Appearances page for details.) If you're in the area, please drop by and say hello.
I want to send out a huge THANK YOU you to everyone who braved the snow and cold in both cities to attend my January events, and another thank you to the staff at McNally Robinson in Saskatoon and Indigo in London for hosting and making the process so easy!