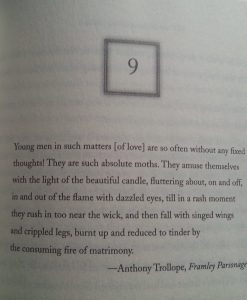 I can hardly believe that Bear No Malice will be published three weeks from today! This will be  my last blog post for a while because I'll be traveling for the holidays and book-related events.
This delightful epigraph from Chapter 9 of Bear No Malice shows Victorian author Anthony Trollope at his comic best. Don't you feel sorry for those poor young men consumed by the fire of matrimony? 🙂
Trollope was a contemporary of Dickens and deserves to be better known. His Chronicles of Barsetshire is a series of novels that focuses on the lives of cathedral clergymen and their families in the fictional town of Barchester. There are plenty of eccentric characters, long Victorian sentences, and ecclesiastical melodrama! Barchester Towers, the second novel in the series, begins with the death of a bishop and much controversy surrounding his successor. This controversy, as well as the warring High Church and Evangelical factions within the Anglican church that Trollope depicts so well, inspired the rivalry between Tom Cross and Paul Harris in both of my novels. These two very different ministers are the top contenders for the deanship of St. John's Cathedral: Paul is an introverted, intellectual Anglo-Catholic, whereas Tom is an extroverted, practical social reformer who has no patience for what he considers the "mystical fluff" that interests Paul.
Earlier today Sarahlyn Bruck interviewed me on her blog, so you can read more about the way Trollope inspired me and my writing process there.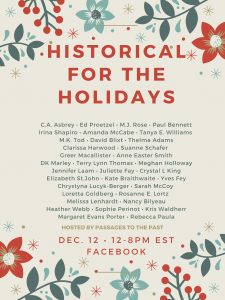 If you love historical fiction, you won't want to miss Historical for the Holidays, a Facebook party tomorrow from 12 noon to 8 pm EST, where I'll be giving away a signed hardcover copy of Bear No Malice and two signed paperback copies of Impossible Saints. My slot is from 2:20 to 2:40 pm and I'd love to "see" you there! Click on this link to join me and more than 35 other historical novelists at the Facebook party.
If you can't drop in during my slot, you still have a chance to win one of my books. Here are three different ways that you can enter the giveaway:
1) By adding a (non-anonymous) comment below on this blog post
2) By commenting on one of my posts in the Historical for the Holidays Facebook party (you can comment even after the party is over).
3) By following me on Twitter and retweeting my original tweet (posted today and including the photo below) announcing my book giveaway.
To increase your chances of winning, you can enter the giveaway in two or all three of the above ways. The contest is open to residents of Canada and the US.
You can enter the giveaway any time between now and Sunday, December 16, at midnight EST. I'll announce the winners here on my blog on Monday, December 17!
UPDATE: Here are the winners:
Eva Seyler (a signed hardcover copy of Bear No Malice)
Christine White (a signed paperback copy of Impossible Saints)
Jenni Jenkins (a signed paperback copy of Impossible Saints)
Congratulations, and I hope you enjoy my books!