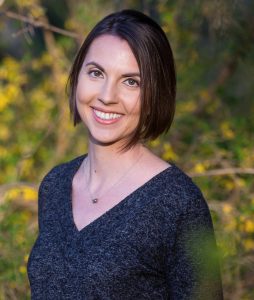 I'm thrilled to introduce you to my friend and fellow Authors18 member Carrie Callaghan, whose debut historical novel A Light of Her Own was published last month. A Light of Her Own is the fascinating story of Dutch painter Judith Leyster, who was the only woman to attain master status and operate her own workshop in Haarlem, Holland in the early 17th century. I'm always interested in books about women in history who have been ignored or forgotten by the dominant culture, so I couldn't wait to get my hands on this one!
Here's the publisher's description of A Light of Her Own:
In Holland 1633, a woman's ambition has no place.
Judith is a painter, dodging the law and whispers of murder to try to become the first woman admitted to the Haarlem painters guild. Maria is a Catholic in a country where the faith is banned, hoping to absolve her sins by recovering a lost saint's relic. Both women's destinies will be shaped by their ambitions, running counter to the city's most powerful men, whose own plans spell disaster. A vivid portrait of a remarkable artist, A Light of Her Own is a richly-woven story of grit and friendship against the backdrop of Rembrandt and an uncompromising religion.
I asked Carrie what inspired her to write the novel, and she said, "In 2009 I wandered into an exhibit at the National Gallery of Art in Washington, DC. There, in a pair of small rooms, I saw 17th century Dutch Golden Age paintings – by a woman. I had never heard of Judith Leyster, and I was so excited to learn about a woman who had managed to find the space and resources to paint seriously at the time of Rembrandt. How had she done that? What obstacles did she face? I couldn't stop thinking about her. The Gallery was celebrating her 400th anniversary, and I'm so grateful that my restorative walk through the Dutch paintings section led me to her."
As a fellow historical novelist, I can definitely relate to those serendipitous moments. It's as if the historical person has been waiting for us in a museum, gallery, or research book and jumps out to ask us to write his or her story. These people become so real to us that they seem like friends.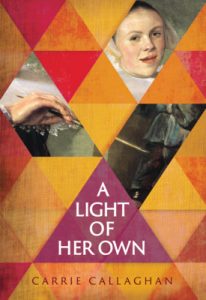 Carrie says that if she could travel back to 17th century Haarlem, she'd love to spend a day with any of her characters. And if she had to pick only one, "the criminal Lechine is probably the one I'd most enjoy following around and getting to know better," she says. "He doesn't show up on the page often, but he's a complex man, with a difficult childhood and a complicated moral calculus. I'd have a lot to think about after watching him lead and protect his gang of adolescent boys."
Carrie and I have similar reasons for writing historical fiction, and we both love the research process. She explains, "The excuse to dive deeply into a moment of human history is one of the main reasons I write historical fiction, so my research is as important a part of the creative process as is the drafting. I relied on the scholarship of art historians for my information on Judith and the techniques of artists of her time. I read widely about the 17th century and Holland, including the philosophy of the time, local wars (the Thirty Years War), and the Dutch economy. Everything from academic articles to exhibit catalogues to the paintings themselves blended into the creative cauldron. I hope the result is a rich novel with lots of detail."
I think the result is exactly what Carrie hoped it would be! I'm also very impressed by the way Carrie manages to carve out time to write. She's an inspiration to all writers who wonder how they'll fit writing into their hectic lives: "I have a full-time day job, a longish commute, two young kids, and a husband," she says. "So writing time is scarce, but that also means it's precious when I do have it. I aim to write (or research) 45 minutes each night after the kids go to bed. It's amazing how the words add up."
Carrie and I will be doing two joint author events in Virginia in early February (see my Author Appearances page), and we'd love to meet historical fiction fans who are in the area!
---
"A LIGHT OF HER OWN follows two women as they seek space, respect and professional opportunity in a culture that allows them very little of it. Impeccably researched and vibrantly told, Carrie Callaghan's debut paints a picture worthy of Judith herself."
– Chloe Benjamin, bestselling author of The Immortalists
"Nevertheless, she persisted, even back in the Dutch Golden Age. Callaghan has taken as her subject the painter Judith Leyster and transformed the thin historical record into a richly detailed and animated story."
—Debra Dean, author of Hidden Tapestry and The Madonnas of Leningrad
You can buy A Light of Her Own here (US) or here (Canada).
To connect with Carrie online, click on any of the links below:
Website
Facebook
Twitter
Instagram
Goodreads