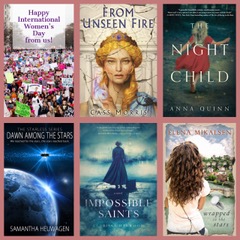 Happy International Women's Day!
To mark this day, I'd like to highlight five recently-published or soon-to-be published novels from Authors18.com (the group of debut authors I belong to) that celebrate women's achievements and include characters who fight for women's rights.
I've listed the novels below in order of publication date with buy/pre-order links and a short  description:


Impossible Saints (Jan 2) is a historical novel by Clarissa Harwood 🙂 . Set in 1907 England, it depicts a militant suffragette torn between her political ambitions and her love for a young clergyman.
The Night Child (Jan 30) is a contemporary psychological/literary novel by Anna Quinn. The protagonist, Nora, sparks an intense discussion with her high-school English class about the loaded word "feminism." Shakespeare's sexism, Queen Elizabeth's struggle to be accepted for her brilliance, and Clinton's appointment of Janet Reno are explored in a heated, important conversation.
Wrapped in the Stars (Feb 19) is a historical novel by Elena Mikalsen. During WWI, Dr. Rebecca Miller fights for rights of women to receive access to healthcare and birth control and, together with her friends, establishes a women's health clinic and legal aid service to help women improve their health services and gain independence from abusive and controlling husbands.
From Unseen Fire (April 17) is a fantasy/alternate-history novel by Cass Morris. Latona, the heroine is fighting to claim her space and power in a suffocating society; move her forward two thousand years, and she'd be all about #MeToo and #TimesUp.
Dawn Among the Stars (May 21) is a fantasy novel by Samantha Heuwagen. The novel depicts a world where diversity flourishes as powerful women battle mental illness and aliens.
Here is another list of five great books by and about women:
International Women's Day 2018: Five books by women, about women

Which books by and about women would you recommend to celebrate this day? I'd love to see some new-to-me titles in the comments!