Since January 2 when Impossible Saints was published, my life has been a whirlwind. I want to take a few minutes now to savor and document what's been happening, and these photos taken by my friend Jannay are a great start! The first couple of photos give you an idea of the great turnout at Indigo North London, where the Canadian launch was held.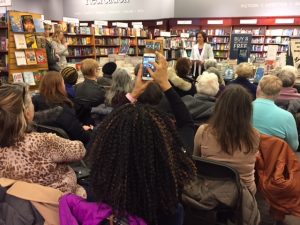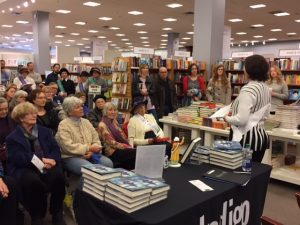 This was a highly successful event, helped in large part by the wonderful team of women who are organizing A Century for Women, a local group celebrating the centenary of women's suffrage in Canada with a community-wide series of events this year. My research focuses on British women's suffrage, so it was great to have the Canadian story told by my colleagues from A Century for Women.
Jean Hewitt introduced A Century for Women and was followed by Joanne Johns, (aka Nellie McClung), who gave the audience a dramatic monologue from the perspective of the well-known Canadian women's suffrage leader. The costumes Jean, Joanne, and their colleagues wore created a great visual impact!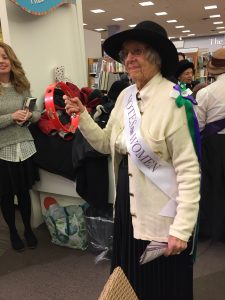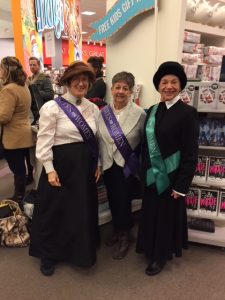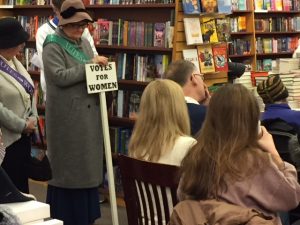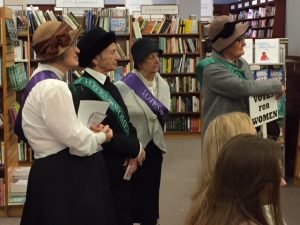 I then gave a talk and read a few passages from Impossible Saints. I spoke about what inspired me to write the novel, the difference between historical authenticity and historical accuracy in fiction, a brief history of women's rights and the suffragettes in England, and finally, the symbolism of clothing and spaces in Impossible Saints. In the first photo below I seem to be trying to levitate, and I'm very curious about what I was saying at that point!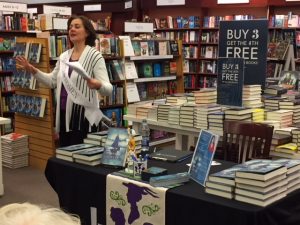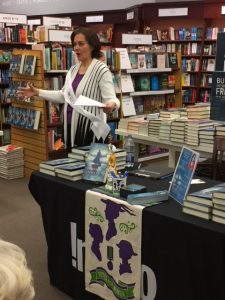 After the talk, I had a Q and A session with the audience, and then we moved on to what I considered the best part, signing books and talking one-on-one with friends and other audience members. I think you can see from the first photo how happy I am. It's still hard to believe that my dream of being published has come true!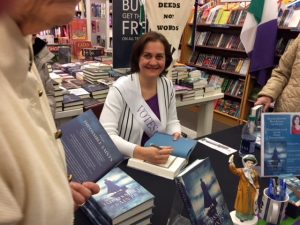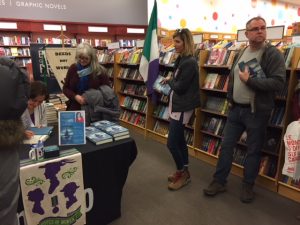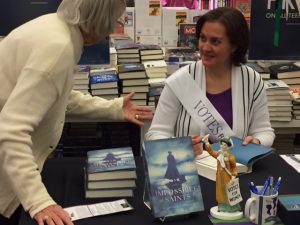 I had very little time to let this experience sink in because the next day my husband and I flew to Chicago for another book event, this time a joint event with my friend and bestselling historical novelist Jessica Brockmole, author of Letters from Skye, At the Edge of Summer, and Woman Enters Left. We had fun planning our conversation and interviewing each other, and although our audience was small, the bookstore staff made up for it with their energy and enthusiasm. One staff member took a video of the event that she live-streamed on Facebook. You can watch it here:
https://www.facebook.com/AndersonsBookshopNaperville/videos/10159768202670023/
At Anderson's, I also saw my book on display in a store window for the first time.  Notice the very good company Impossible Saints is keeping!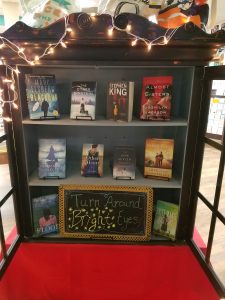 I'll be doing more events in Canada and the US this spring, some of which haven't been confirmed yet. You can see the full list of confirmed events under Author Appearances. If you're not in any of the physical locations I'll be going to, consider joining me and nine other debut authors for a Facebook Launch Party this coming Wednesday, January 17, from 8 to 10:30 pm EST.  There will be prizes! Here's the link if you'd like more information:
https://www.facebook.com/events/763330847196012/
Finally, some stores have already sold out of Impossible Saints (YAY!), but it's easily available online through the retailers listed under the book cover photo on my home page. (If you order from Chapters Indigo online, you can have the book shipped to a store near you and avoid the delivery charge.) People are telling me that the book is being delivered within 2-4 days of ordering online, so I'm happy about that!