The answer, in my case, is 160. (No, this is not a joke!)
I wrote this post in April about my path to publication. Last month I gave a talk on the same subject at the London Writers Society general meeting. Audience members told me they found the statistics I gave them regarding my agent search both sobering and inspiring, so I'm going to share those details here.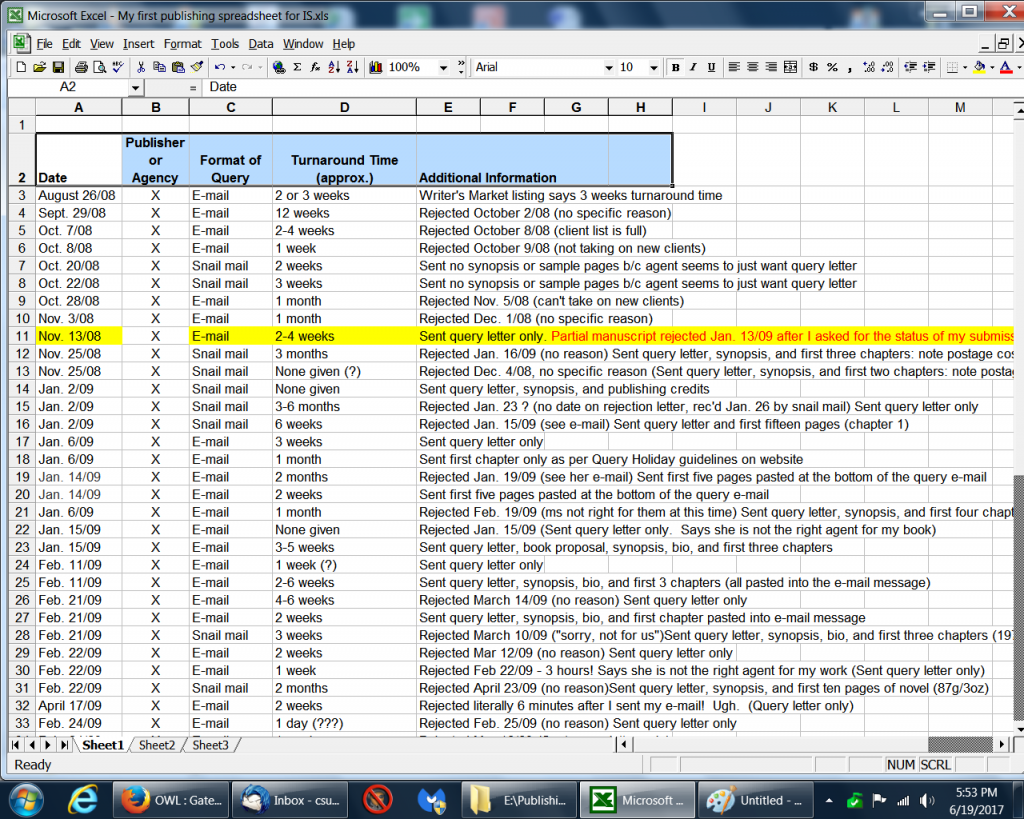 This is the spreadsheet I used when I started querying agents. I've removed the names of the specific agents and literary agencies, but their responses are recorded in the right-hand column. I changed the line from "sent" to "rejected" when I received the rejection letters, but if I received no response, the line remains "sent."
Here are the statistics for each novel I queried between 2008 and 2014:
Novel 1 (2008-09)
Query letters sent: 54
Requests: 3 (partial manuscript)
Novel 2 (2010-12)
Query letters sent: 30
Requests: 1 (partial manuscript)
Novel 3 (2013-14)
Query letters sent: 76
Requests: 13 (full manuscript)
Laura Crockett of TriadaUS Literary Agency offered representation and became my agent in Fall 2014. Interestingly, I signed with Laura for Novel 3, but Novel 1 (Impossible Saints) is actually being published first. If you're wondering what happened between receiving Laura's offer of representation and receiving the offer of publication for Impossible Saints from Pegasus Books, you can read Laura's excellent blog post about that journey.
Yes, it took 6 years, 3 novels, and 160 queries for me to find an agent. It probably didn't need to take that long. In hindsight, I think I started searching for an agent too soon, before my novel was ready.
I did some things right: I researched specific agents who represented historical fiction and was careful to give them what they asked for (e.g. Just a query letter? A letter and the first ten pages of the manuscript?). AgentQuery.com was the main resource I used to find agents who represented novels in my genre, and I highly recommend it.
The main thing I did wrong and the way in which my novel wasn't ready was that it was ridiculously long, around 180,000 words (the recommended range for most novels is 80,000 to 100,000 words). I knew my novel was longer than most guidelines suggested, but I had plenty of reasons why it needed to be that long (it covered a large span of time, there were lots of characters, etc). Besides, every word was precious and I needed them all, or so I thought. The real truth was that I was afraid of revision and didn't want to take the whole thing apart in case I might not be able to put it back together again! But I wish I had listened to the advice from people in the publishing industry and not given agents a reason to reject my manuscript right out of the gate.
I knew quite early in the process with the third novel that I was getting closer to an offer of representation because I was getting more requests for the manuscript, and instead of form rejections, I received personalized rejection letters. If you're not a writer, you have no idea how exciting that first personalized rejection letter is!
If I could say one thing to aspiring authors, it would be this: don't give up! (And be willing to revise your work so many times that you lose count.)
If you'd like to participate in a Twitter chat on the subject of successful queries and pitches this evening with a group of debut authors whose books will be published in 2018, see the information below. I'm happy to answer your questions!