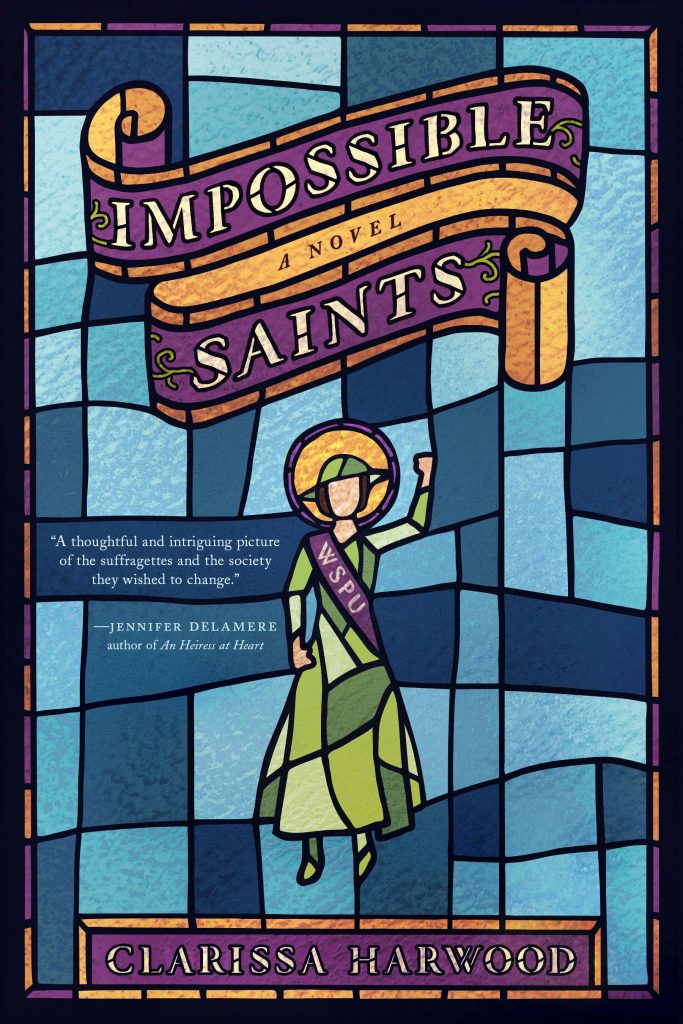 I'm thrilled to reveal the cover for Impossible Saints, to be published by Pegasus in January 2018!
To give you some context, here's a bit of the jacket cover copy: "Escaping the constraints of life as a village schoolmistress, Lilia Brooke bursts into London and into Paul Harris's orderly life, shattering his belief that women are gentle creatures who need protection. Lilia wants to change women's lives by advocating for the vote, free unions, and contraception. Paul, an Anglican priest, has a big ambition of his own: to become the youngest dean of St. John's Cathedral. Lilia doesn't believe in God, but she's attracted to Paul's intellect, ethics, and dazzling smile."
The design team at Pegasus did an amazing job of weaving the central themes of the book into the cover. The woman in the centre perfectly represents Lilia and her fighting spirit. I also love the way the designers incorporated the WSPU colours (purple, white, and green) into the design. The Women's Social and Political Union, the best-known group of militant suffragettes in the early 20th century, chose purple for dignity, white for purity, and green for hope.
Although Paul doesn't appear on the cover, his work as a cathedral clergyman is cleverly depicted in the stained-glass motif. His beloved church tradition and history, also cleverly represented with the scroll at the top, contrast with Lilia's more modern feminist concerns.
I love the questions raised by this design. Does it represent a clash of two worlds, or do those worlds complement each other? Does the stained glass surround Lilia like a trap, reflecting her fears about all things religious? Or is she pushing past the borders to take centre stage? And what about that halo around her head? Is it ironic, given that Lilia is hardly a saint? Or does it suggest that she (and perhaps Paul too) is a different kind of icon?
What do you think?
In a month or so, I'll post links to online retailers and Goodreads so you can add the book to your TBR list. I'm very excited that Impossible Saints is one step closer to being out in the world!