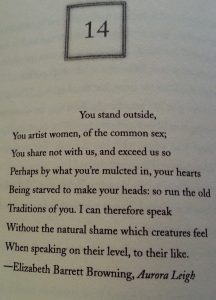 This epigraph from Bear No Malice comes from my favourite epic poem, Aurora Leigh (1856) by Elizabeth Barrett Browning. The speaker is Lady Waldemar, a noblewoman who is visiting Aurora, a successful poet. Lady Waldemar insults Aurora by implying she is not a normal woman: she can't have a heart or natural female desires because she works for a living, and thus her brain must be overdeveloped! Although Aurora disagrees with her, this criticism haunts her, leading her later in the book to say, "I cannot love. I only find / The rhymes for love." This beautiful Victorian novel in verse is a fascinating meditation on women's work, gender stereotypes, and the relationship between art and politics. It also has a swoony love story with some Jane Eyre parallels. 🙂
The female protagonist and artist of Bear No Malice is Miranda Thorne, who struggles to balance her desire to paint with her responsibilities to family members. As is the case with so many women over the centuries, her work is tolerated by her family as a hobby, as long as it doesn't interfere with their needs (especially the needs of her sister-in-law).
I love reading about women artists, whether real or fictional, and it just so happens that today is publication day for my friend Carrie Callaghan's A Light of Her Own. It's a historical novel about a real-life seventeenth-century Dutch painter, Judith Leyster. I'll be interviewing Carrie next month on this blog, so I won't say more about her or her novel now except to tell you to read it! Carrie writes my favourite kind of historical fiction, which brings forgotten women from history into the spotlight and teaches me about a place and time I know little about.
Happy book birthday, Carrie!
Here's a great list of historical novels about women artists. If you know of others in this category, please add the titles in the comments.