Inspired by a blog post written by my agent, Laura Crockett, I decided to put together a top five list of my own. On average, I read one historical novel per week because this is my favourite genre to read and write, and I also review novels for the Historical Novel Society. These five novels were easy to choose because they stayed in my mind long after I read them. I'm a stickler for historical accuracy, so it goes without saying that all of these authors have done impeccable research. Interestingly, four of my five favourites (all but Kate Morton) were new-to-me authors whom I found out about through the HNS or Twitter. Note: these are novels I read in 2015, not necessarily novels published in 2015.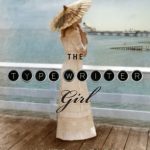 1. Alison Atlee, The Typewriter Girl (2013)
This Victorian-era novel is set in the fictional English seaside resort town of Idensea. Betsey Dobson, who has been sacked from her typewriting position in London, is hired as a tour manager in Idensea by John Jones, a gruff Welshman. An unusual romance ensues.
This book was a surprise to me on many levels. To be honest, I nearly stopped reading after a couple of pages because of Betsey's crude, vulgar language. Strong language doesn't bother me if it suits the character and context, but I didn't think a character who in every other way appears to be a respectable middle-class woman would even know such words, much less speak them. But I'm glad I persisted, because Betsey's language is a crucial aspect of her character, and the apparent class problem was resolved to my satisfaction.
In short, I fell in love with this book. Betsey and John are fully fleshed-out, vivid characters whose flaws are as real as their strengths. Even now, months after I've read the novel, it's hard to believe these characters never really existed. I don't even care what era or setting I found them in: I'm just glad I found them. This book is pure storytelling magic, and if I had to pick only one favourite novel of 2015, this would be it!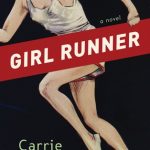 2. Carrie Snyder, Girl Runner (2015)
Aganetha Smart is a fictional Canadian runner who wins the gold medal in the 800-metre race in the 1928 Amsterdam Olympic Games. This book was assigned to me for review by the Historical Novel Society. I love to read books by fellow Canadians and to learn more about the history of my own country. This novel was a delight from start to finish. As one would expect from a literary novel, Snyder's language is accomplished and her imagery vivid. I'll never forget the lighthouse in the middle of a farmer's field! But the story is just as compelling as the language. Aganetha is a fascinating, complex character who, like Betsey and John in The Typewriter Girl, seems too real to be a fictional character. See my HNS review for more of my thoughts on this wonderful book.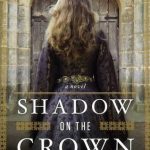 3. Patricia Bracewell, Shadow on the Crown (2013)
The year is 1002 and young Emma of Normandy marries the much-older King Aethelred of England, whom she meets on their wedding day. It was fascinating to watch her learn how to adapt to the foreign court, deal with political and familial intrigue, and become a mature woman who makes wise decisions. Emma is a wonderful heroine, strong but still of her time, not anachronistically modern.
I know no other historical novelist who can balance historical details and storytelling like Bracewell does. Historical novelists tend to err on the side of too much historical detail: we set our novels in a particular era because we love it, and we tend to get so excited about the minutiae of our research that we forget our readers might not find it as interesting as we do. Thus, too many historical novels lose the thread of the story and become history textbooks, also losing their readers in the process. All historical novelists ought to emulate Bracewell's delicate balancing act, as well as her impressive clarity of expression. She's certainly an inspiration to me!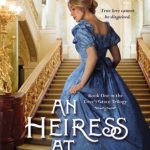 4. Jennifer Delamere, An Heiress at Heart (2012)
I tend to approach inspirational romances with trepidation and very low expectations. I've read too many that are preachy, poorly-written, and/or insipid. I'm very glad my prejudice didn't stop me from reading this gripping novel. Geoffrey, a minister-turned-peer, and Lizzie, a woman with secrets who is haunted by her past mistakes, were compelling characters whom I cared about from the start. I'm always a sucker for vicar heroes, though Geoffrey no longer practices as a minister. He has an Austen hero vibe too, Mr. Darcy with a dash of Mr. Knightley thrown in. What's not to love about a hero with a stern, uncompromising attitude that turns out to be a facade hiding his warm, passionate nature? And I was there with Lizzie through every twist and turn of her predicament. The chemistry between Geoffrey and Lizzie was palpable: there was plenty of sexual tension without explicit sex scenes. And the the elements of faith were subtly present without being preachy  or contrived. A great read!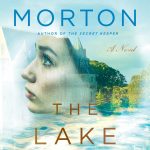 5. Kate Morton, The Lake House (2015)
What can I say about Kate Morton that hasn't already been said? Nobody can create a spooky, understated gothic atmosphere the way she can, or weave layers of secrets and mysteries that unravel deliciously chapter by chapter. I've read all her novels, and she never disappoints. This is a multi-period novel, which normally I don't like. I'm that reader who is dragged reluctantly from one time period to another, grumbling about how I was just getting immersed in an era when I'm forced to leave it. Thus, I experienced a momentary disappointment when I was falling in love with Morton's 1930's world only to be yanked into 2003, but eventually I came to care about all the major characters in each time period. There were perhaps too many characters introduced at the beginning, but it's worth reading the beginning carefully because they all turn out to be important. Reading this novel was like relaxing in a hot bath with a glass of wine and chocolate: an indulgent pleasure!
I'm grateful to all of these writers for creating my happiest reading moments of 2015 and I look forward to new reading pleasures in 2016!