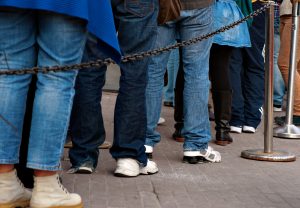 Here's a common scenario:  I'm at the grocery store in the queue, waiting to pay for my stuff.  The person in front of me has a problem that keeps everyone waiting longer: his credit card doesn't work, or she's telling the cashier the adorable story of how her grandson learned to walk, or he is trying to buy an exotic fruit that none of the staff recognizes (much less knows the code for).
Meanwhile, the person behind me is inching closer, just as impatient as I am to get out of the store.  But I can feel her breath on the back of my neck.  Then her giant purse brushes my arm.  I start to sweat and hyperventilate but manage not to scream.
I try to manage my anxiety by adopting a posture that must look odd to a bystander: hands on hips, one leg far ahead of the other, leaning back a bit, all to try to take up more space and get the person behind me in the queue to back off.   Or I make a sudden movement to reach for an imaginary falling pack of gum so that she'll move out of the way for fear of being struck.
These tactics don't work.
When I finally emerge from the store, I'm feeling panicky and drained, and I never want to go to another grocery store again, or indeed anywhere that my personal space might be violated.  Which rules out basically every public place and even some private ones.  This experience also makes me want to buy the boots below.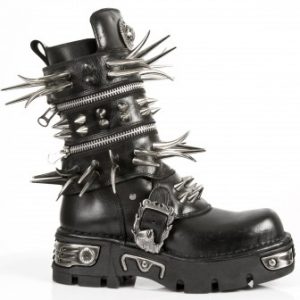 I've always known that I need more personal space than a lot of people do.  It's probably a combination of growing up in a sparsely-populated area and being an HSP (highly sensitive person).  I'll have more to say about HSPs in another post, but for now I'll just say that HSPs are more sensitive to all kinds of stimuli (visual, aural, tactile, etc.) than other people, so they experience sensory overload more quickly.  (If you want to know more and can't wait for my post on this topic, Google Elaine Aron.)
I actually do understand people who press too close in the grocery store queue or tailgate while driving because I've done both—it's not necessarily that they have a smaller personal space than I do, but their impatience makes them violate others' personal space.  The people I don't understand are those who get too close when there seems to be no reason to do so, such as people who sit right next to me in auditoriums or on public transit when there are plenty of other empty seats.  I like to have an empty seat between me and the next person whenever possible.  Close talkers are a problem for me too: these people get so close that I go cross-eyed trying to look at them (don't get me started on having to smell their breath or feeling their spittle on my face).
Some of these differences are cultural.  North Americans tend to have a larger personal space than many other cultures, and people raised in an urban environment tend to have smaller personal spaces than those raised in a rural environment.  There's even a name for the study of space, called proxemics.  Edward T. Hall, an American anthropologist, coined the term and mapped out personal space zones.  These are the zones for Americans: intimate (6-18 inches), personal (1.5 to 4 feet), social (4-12 feet), and public (12-25 feet).  I suspect that Canadians have even larger personal spaces than Americans but have no data to back this up.
For me, intimate space is reserved for my husband and cats.  Personal space is for close friends and relatives.  Everyone else, back off!  Even those normally allowed into my intimate or personal space can be banned from it when I'm feeling anxious: at times like that, I want everyone to stay more than 4 feet away (except for cats, who are always welcome!).
Reading about personal space zones helped me understand why I need so much distance and why others might not, especially if they are from a different culture.  I don't want others to think I don't like them just because I keep backing away when they get too close.
I'm going to try not to panic the next time someone sits in a seat beside me when there are plenty of empty seats around. The other person might just have a different personal space zone.